Land of the Midnight Sun.....The Last Frontier.....The Great Land.....Alaska
Those words fall short of the actual beauty that is Alaska, where postcard scenery and an abundance of fishing waters and wildlife habitats create an outdoor sports enthusiast's paradise.
At Deshka Wilderness Lodge you will experience Alaska fishing, wilderness activities, and Alaska wildlife viewing at its finest. From the moment you arrive in Anchorage, the scenery is breathtaking. Your Alaska adventure begins the moment you depart for our lodge from Regal Air on Lake Hood, the largest seaplane base in the world. They will fly you into our remote wilderness lodge just south of the Alaska Range (about 70 miles northwest of Anchorage by air).
As you fly towards our lodge the view out the front window will be the magnificient Denali (Mt. McKinley), North America's highest mountain. Your pilot will bring you down on the Deshka River where we will meet you and take you further into the wilderness by boat to our remote lodge fifteen miles up the Deshka River. Once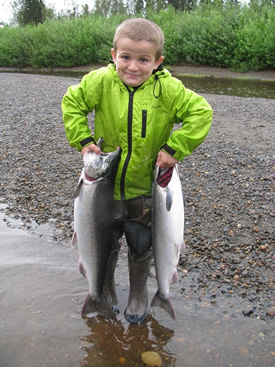 you arrive you will be greeted by wonderful accommodations, great hospitality and no crowds. Our lodge has a comfortable home like atmosphere and since WE TAKE ONLY FOUR GUESTS AT ANY TME you will receive plenty of personal attention from your hosts, Mike and Linda Yencha, not a staff hired by owners you may never even see. Mike and Linda have been in the lodging and guiding business for over twenty five years now and have the experience needed to make your trip enjoyable, exciting and successful.
The Deshka River starts at the foot of the Alaska Range and is a clear water river, not glacier fed. The Deshka is a premier Alaska freshwater river. It is well known for its great runs of King salmon (Chinook) and Silver salmon (Coho)as well as large numbers of Rainbow Trout. The river also has large runs of Pink Salmon on even years plus opportunities to fish for Grayling and Northern Pike. The Deshka is truly Alaska fishing at its best.
Our location on the river above the rock garden offers isolation from the crowds and remote fishing you won't find in many other places. Most of the time we have the river to ourselves.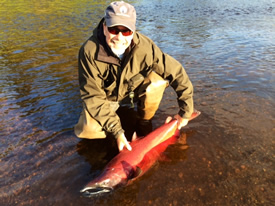 Our jet boats give us access to miles of river and side streams and offers our fishing guests a choice of fishing from the boat or putting on a pair of waders and getting into some great river fishing. Not only will you experience great river fishing and Alaskan scenery second to none but you may even be lucky enough to see Brown Bears (Grizzly), Moose, Eagles or other wildlife while spending the day on the river.
Just out the door of our riverfront Alaskan lodge you can fish from shore and hook into a mighty king salmon in the pool out front. Or just a walk around the bend and fish the riffles leading to the pool below and there is no telling what you may catch depending on the time of year. So if you have been looking for an Alaska fishing lodge for a fly fishing trip or if you love to spin cast for fish, here at Deshka Wilderness Lodge we will give you an Alaskan fishing trip to remember.